Safety Information
American Ladders and Scaffolds Inc. offers a wide variety of safety products. These products are used to keep workers safe while working on hazardous job sites. We also provide training classes in order to provide workers with safe practices while on the job site. There are multiple classes to choose from involving scaffold and fall protection safety.
Fall Protection Products Offered: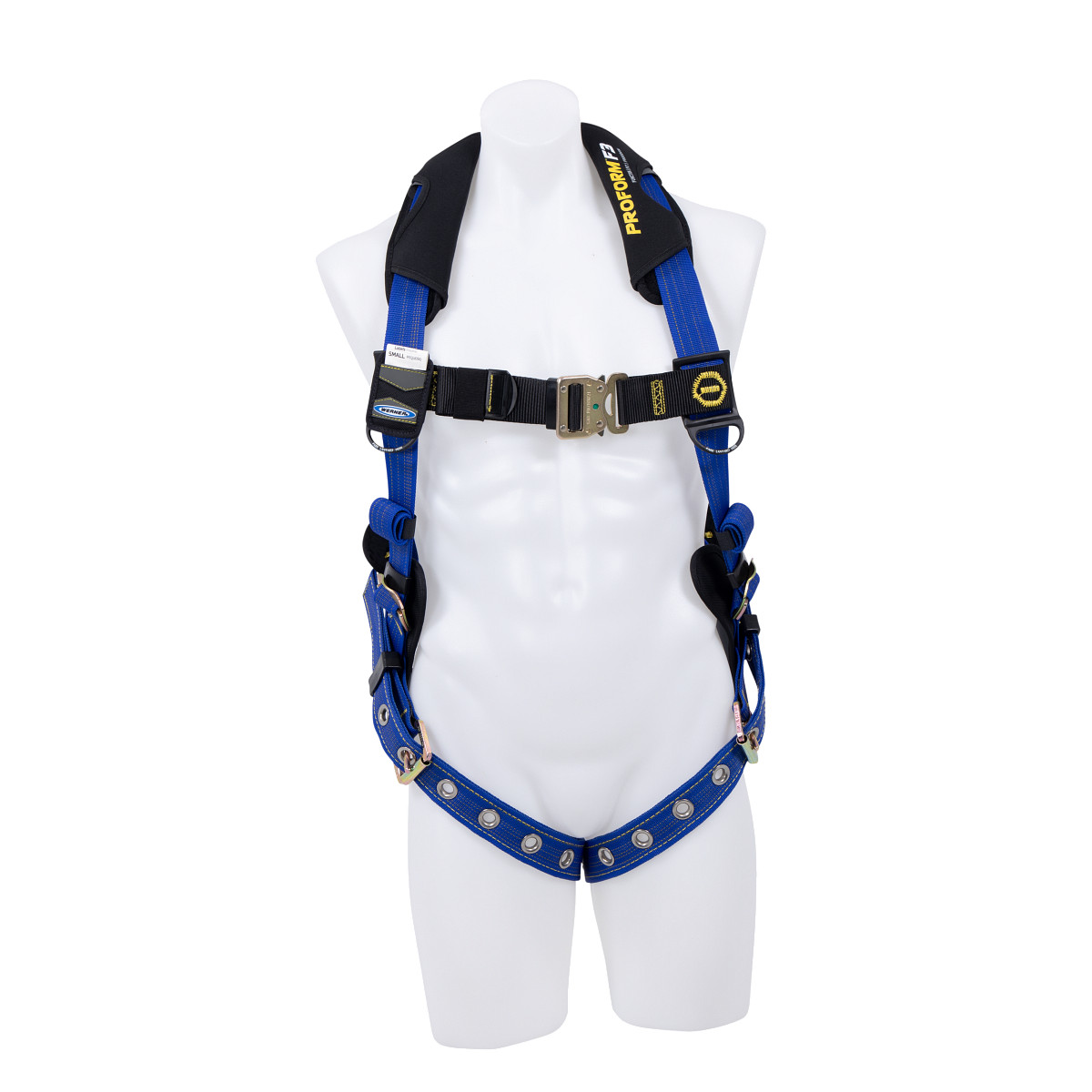 American Ladders offers a wide variety of
harnesses
and harness attachments. The harness shown above is the Werner ProForm™ F3
H01200X
  Standard Fall Protection Harness with Tongue Buckle Legs is athletically styled and constructed with lightweight materials to deliver maximum comfort and unrelenting safety performance. In the event of a fall, simply pull the patented Relief Cords to deploy the built-in seat and achieve the Gravity Override position reducing the potential hazards of suspension trauma. ProForm™ Functional features are the post-fall performance with the relief cords and the new dual back pad system, which can be repositioned after a fall to reduce pressure on the clavicle. New WebAlert™2 adds a weather resistant coating to inspectable webbing. The addition of an integrated self-retracting lifeline bumper protects the lower back when wearing personal SRLs. Fit features include quick connect buckles with indicator and new roll down torso web keepers for convenient storage of excess web.Freedom features are the lightweight material and design throughout the fall protection harness, minimizing contact points to promote airflow and maximize comfort.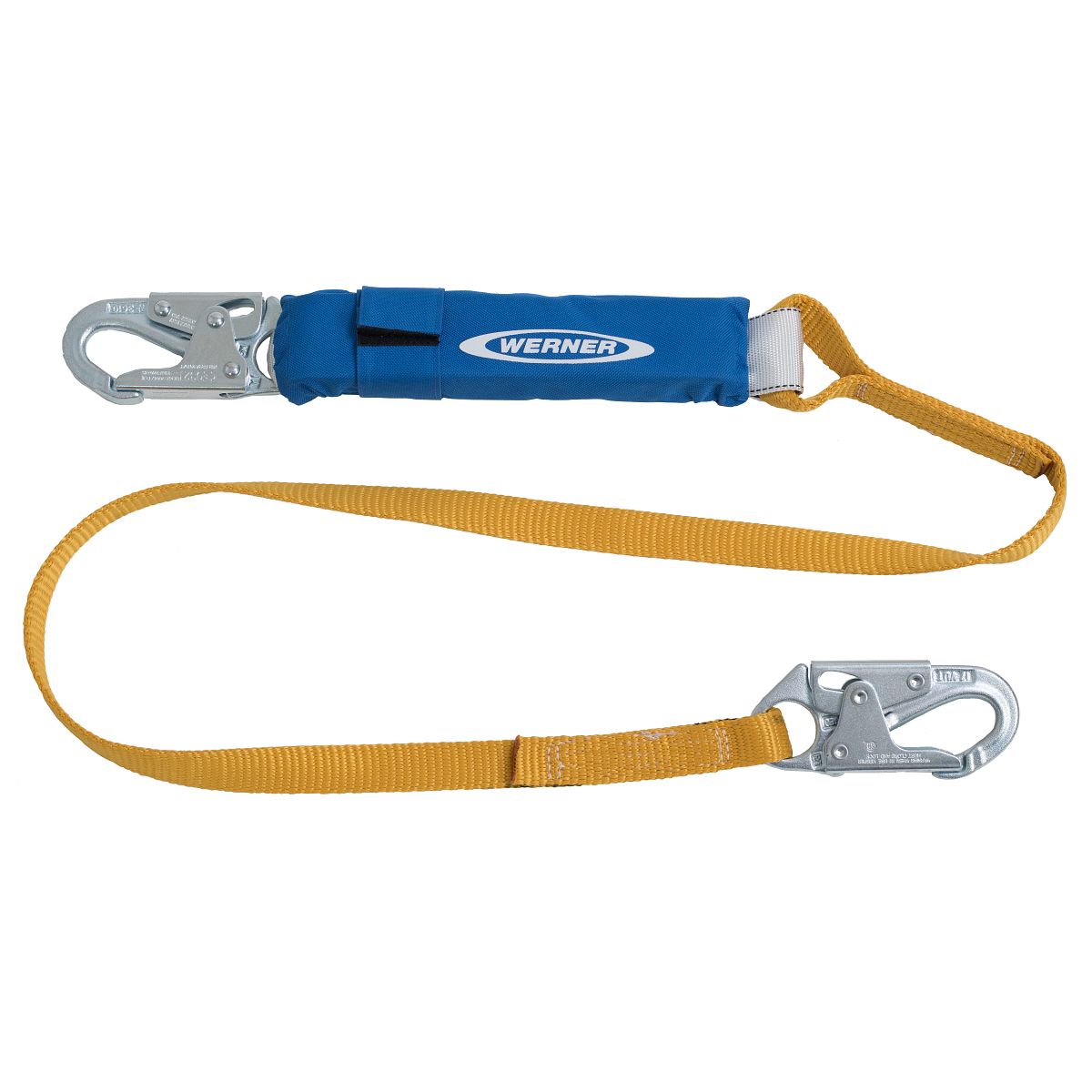 The lanyard is a staple in the fall protection world. We have a wide variety of different sizes and types of
lanyards
. This lanyard is the Werner
C311100
6ft DeCoil Lanyard features the DCELL Shock Pack, a deceleration device designed for controlled tearing action to reduce fall arrest force. Unique wear indicating polyester webbing allows for easy inspection and provides durability that will last. The snap hook is designed to prevent false engagement.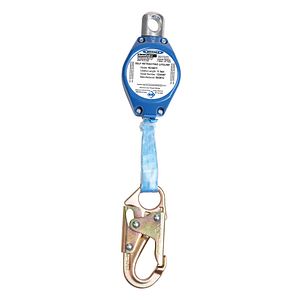 SRL or Self Retracting Lifeline is a state of the art tool used to help prevent falls as well as saving workers after they have fallen. The SRL works as a seat belt, if a quick jerky motion occurs, the SRL will lock preventing the worker from moving any farther, hopefully keeping them from falling. If the worker does fall the SRL will stop the worker before he hits the ground and in a safe manor. Check out our long list of SRL devices
here
. This is the Werner AutoCoil 2
R230011
self-retracting lifelines provide safe, reliable protection for workers while also allowing for more freedom of movement around the jobsite. The lifeline extends and retracts automatically during typical use, but a brake activates in the event of a fall, stopping the worker in a short distance while limiting fall arrest forces. Designed to enhance safety performance and productivity, AutoCoil 2 features impact resistant Thermoplastic (Cable models) and Aluminum (Web models) housings to protect the working components in a compact, lightweight package. All units include a swivel top for anchorage connection and an impact indicator through the snap hook or web stitch. AutoCoil 2 models feature recessed labels and ID Tags to ensure critical information remains with the unit for inspection.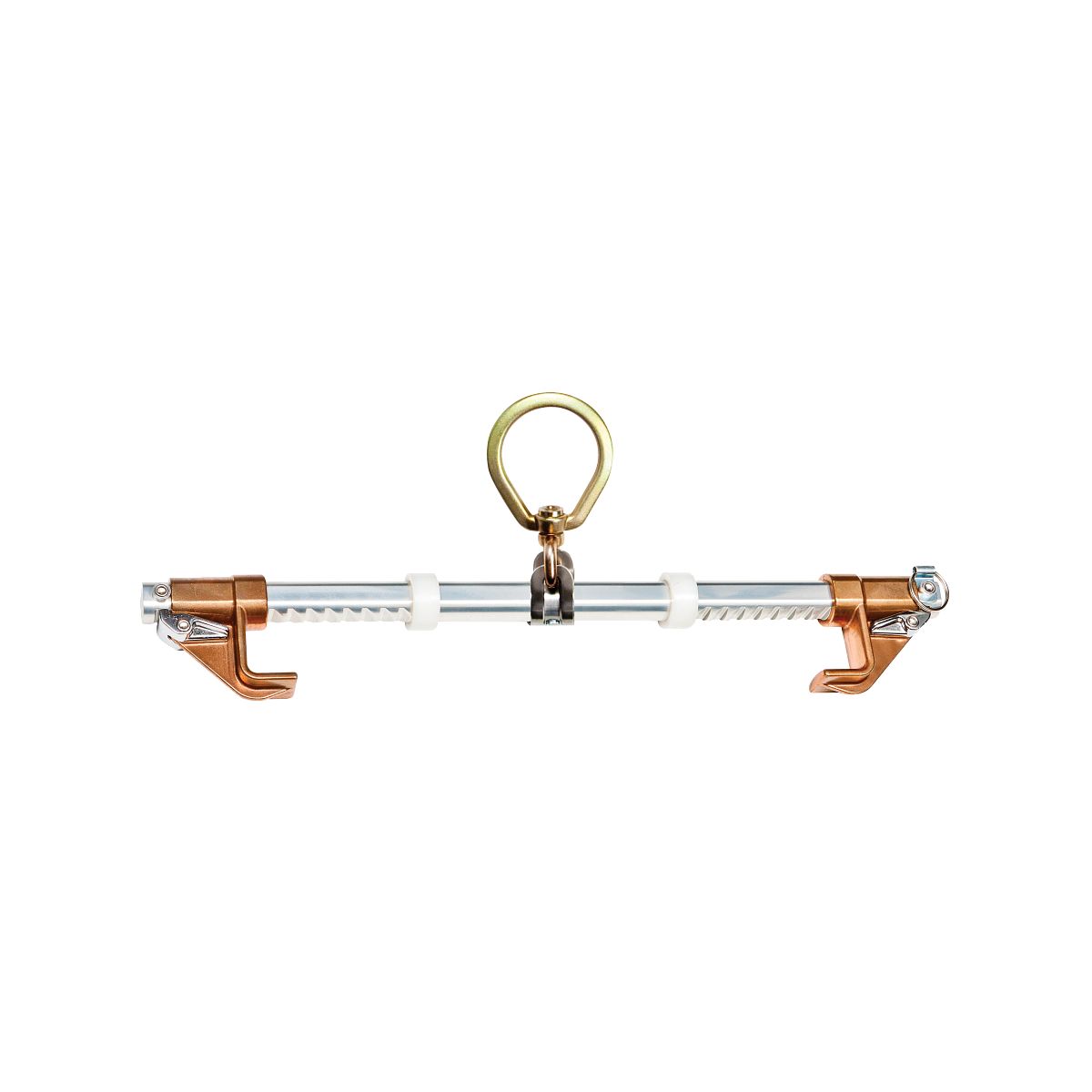 Anchors are what a lanyard, lifeline, SRL etc. are tied into. The anchor is a key feature in fall protection because without a good anchor then the rest of your fall protection devices render useless. Our wide variety of anchors can be found
here
. The anchor shown above is the Werner
A550000
I-Beam Sliding Anchor is a lightweight, adjustable clamp which attaches to I-Beam flanges and slides along the beam as the user moves. The Aluminum design fits beam flanges from 3-1/2 inch to 14 inch with thickness of 1-1/4 inch. Easy to adjust in and out and its design moves smoothly along the beam.