---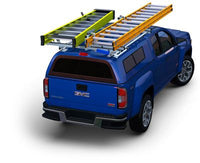 Lightweight, Safe and Easy
Prime Design has been the industry's ergonomic leader since 1992, when we first introduced the concept of an ergonomic ladder rack.
Our design philosophy starts with the worker – how can we make the job safer, easier and more comfortable for the human body? That is because we firmly believe that a product's design and how it impacts the user is every bit as important as the quality of materials and construction.
The ErgoRack was designed to reduce muscle stress, eliminate risk of injury and speed the job of loading and unloading ladders from a work truck.
Easy to use
Deploys with only 2 fingers
Reduce Injuries
Eliminates slip and fall hazards from climbing on bumper or tire
Improve Productivity
Deploy or stow in less than 20 seconds
Safe Operation
Feet stay safely on the ground.
Reduce Back Strain
Reduce back and muscle strain from improper loading.
Smooth Operation
Hydraulic cylinder provides smoothest, controlled descent of any rack in the industry.
Ergonomic
Winner of ergonomic awards in USA, France, Germany, and Australia.
Models
Street side
Curb side
Step / extension sizes
Cap roof height
Crossbar length
Rack Weight
Crossbar Spacing
Documents
Universally compatible with 5.5/6 foot bed and cap lengths
PBB-6000
Base
Base
N/A
7' or less
62"
26
6'
Overview
Assembly
PBC-6000
Base
Clamp
8-10' / 16-28'
7' or less
62"
36
6'
Overview
Assembly
PCC-6000
Clamp
Clamp
8-10' / 16-28'
7' or less
62"
47
6'
Overview
Assembly
PBR-6000
Base
Rotation
8' / 16-28"
7' or less
62"
61
6'
Overview
Assembly
PCR-6000
Clamp
Rotation
8' / 16-28"
7' or less
62"
71
6'
Overview
Assembly
PRR-6000
Rotation
Rotation
8' / 16-28"
7' or less
62"
96
6'
Overview
Assembly
HBR-E-6000
Base
Rotation w/slide
8' / 16-28"
Over 7'
62"
69
6'
Overview
Assembly
HRR-E-6000
Rotation w/slide
Rotation w/slide
8' / 16-28"
Over 7'
62"
110
6'
Overview
Assembly
ErgoRack – Mounting Options
MPK-0007
Flat Pickup Cap Universal Adjustable Mounting Bracket
Overview
Assembly
Mountings are sold separately for all racks. For sloped caps please contact customer service for best mounting solution.
Commercial style aluminum pickup caps will require reinforcement plates. Contact customer service for details.
For rotation style ladder racks, crossbars can be spaced at 1 foot increments from 5 feet up to 6 or 8 feet.
Ladders 28 feet or longer require 8 foot spacing of crossbars.
For step ladders longer than 10 feet, an optional extended rear upper is available.
Check the cap's manufacturer recommendation for roof capacity weight limit.